This addon is deprecated since Nuxeo Platform LTS 2019.
Available Documents
Domain
Sections, workspaces and templates are grouped in domains. A domain can be considered as a mini-application in Nuxeo or a root in the application. Typically, you can use domains to open the application to two or more very different populations of users. For instance, you can have an "intranet" domain and an "extranet" domain. Domains can be totally independent or not, depending on the permissions you set on each domain.
Workspace
There are two types of workspaces:
shared workspaces are workspaces meant for collaborative work, that is to say that the workspace's content is meant to be shared and modified by several users. Collaborative workspaces are workspaces created in the root space called Workspaces and shared between users. Once documents are ready for distribution, they must be published in a section.

personal workspaces can only be accessed by their owner, by default. You can of course share the access to your personal workspace with other users. Personal workspaces are accessible in the header of the application.
Personal workspaces behaviour
Content creation and edition, as well as management, works the same way in personal workspaces as in collaborative workspaces.
By default, no workspace is available at workspaces root. Thus, you can create the structure you need for your project, edit it if needed. You can also set the appropriate permission for users to be able to collaborate in the workspaces.
Workspaces management also includes setting alerts for users to be informed when content is created or edited in workspaces and handling content deletion.
Folder
In workspaces, you can create and manage your documents in folders. A folder works like a workspace, but the documents available for creation are limited. In a folder, you can create: documents, notes, files, collections and sub-folders.
There are two types of folders: regular folders and ordered folders. The difference between the two folder types is the way content is sorted.
Regular Folders
Regular folders, called "Folders", have the same behavior as workspaces. In a regular folder, documents are sorted on the title by default. You can change the sort criterion by clicking on the content table columns title. You can thus sort them on their state, author, etc.
In a folder, you can:
Like in a workspace, you can use drag and drop to create content in a folder.
Ordered Folders
In an ordered folder, documents are manually sorted. So, the order in which documents are listed in the folder doesn't depend on one of its properties (version, author, etc); you decide where it should be displayed in the list. When a document is created, it is added at the end of the list. It is not possible to sort documents automatically by clicking on the columns titles in an ordered folder.
An ordered folder has the same presentation as a regular folder, but it has some additional buttons below the content table:
To change the content's order, select a document using the checkbox on the left and click on the Move button you need. The document is moved in the list of documents available in the folder.
You can move groups of documents. Moving groups of documents up or down joins the group items and positions them one row up or one row down. Moving groups does not affect the rest of the order.
File
A file document is a basic binary container and is composed of an attached file that you upload on the application. You can upload files of any format.
A file is composed of:
A title (mandatory),
A description (optional),
An attached file.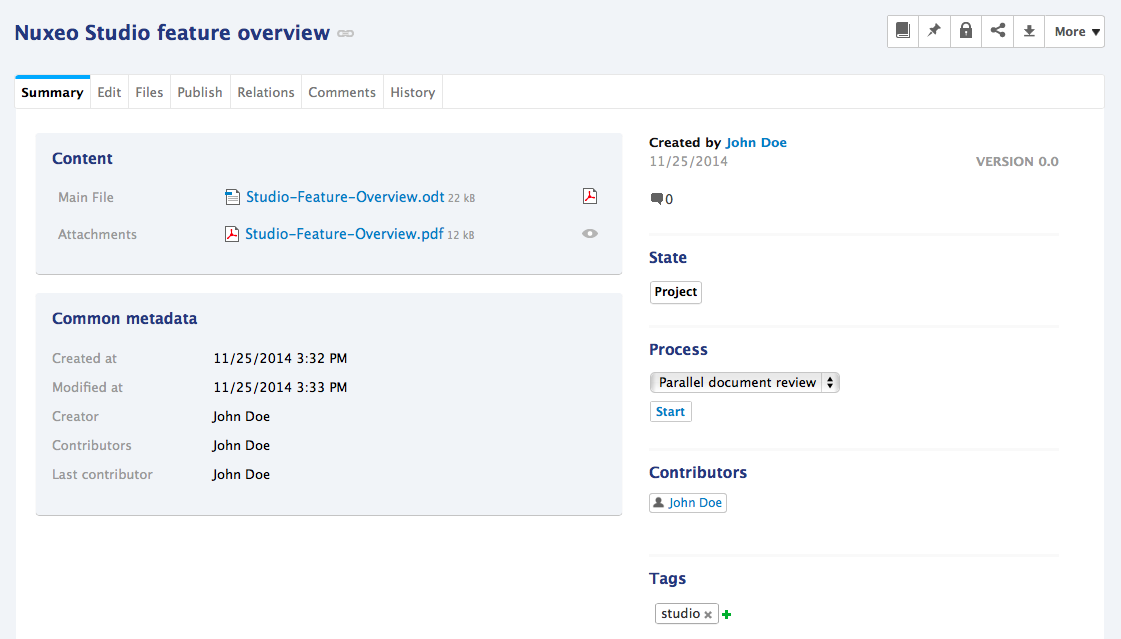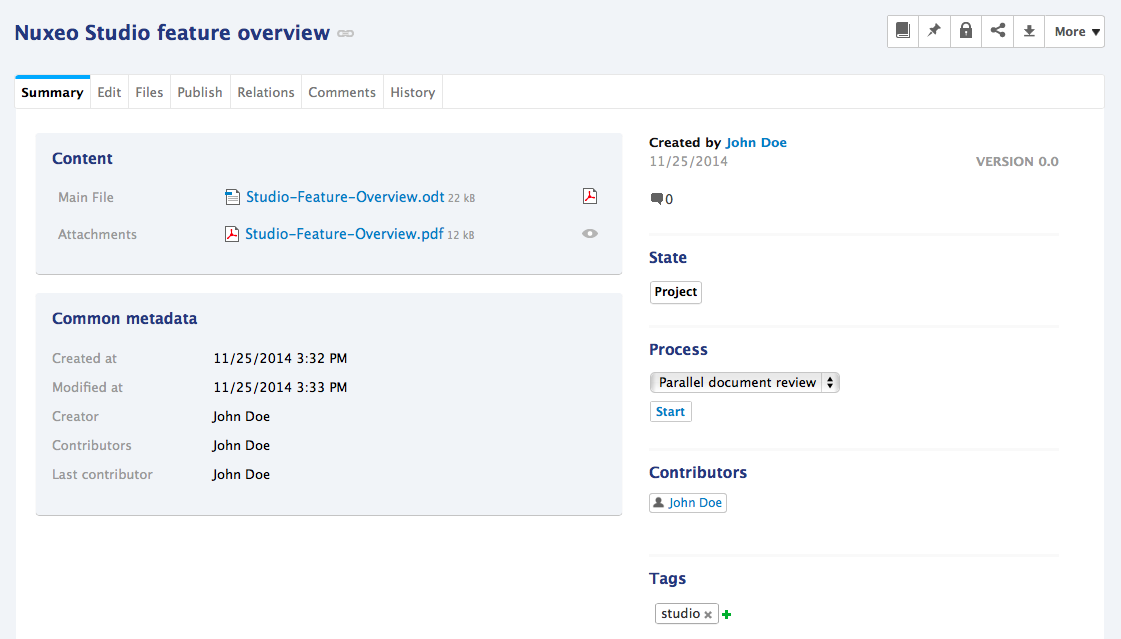 To create a file, in the Content tab of the workspace, click on New button. On the window Available document types, click on the desired document. Fill in the document's creation form and click on the Create button.
Other ways to create a file
You can also create a file using the Import button or using drag and drop.