Released Changes
Studio Designer Interface Improvements
Layouts and UI menus in Studio Designer are now merged into a single menu to be more consistent with Studio Modeler and provide an smoother user experience.
Menus change as following:
Layouts are integrated as menu option (non-expanded by default).

The former Document Pages entry becomes Tabs.

Left Menu Items and Main Menu Pages are merged into a dedicated Drawer menu.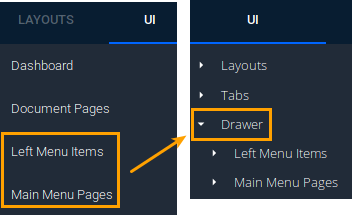 Noteworthy Improvements and Bugfixes